Business greeting card services offered by Cards For Your Clients lets your clients and customers know you are always thinking of them and appreciate their business.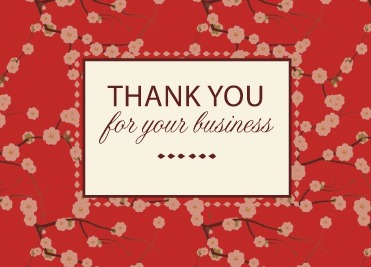 Your business benefits in the following ways from partnering with us to print and mail your business greeting cards:
Greeting cards sent to your clients are a unique product.
Your personalized cards demonstrate the personal touch of your business.
Your business greeting card carries your return address.
Your card look like it comes directly from you.
Your business greeting card stands out from the rest of the mail.
Because it's not a bill or some other kind of offer, your customers and clients and employees open your card immediately.
Recipients of your business greeting card may display them on a table or desk or even on a refrigerator.
Your greeting card is a non-intrusive way of communicating with your clients and customers.
Recipients of your business greeting card are impressed that you remembered them…they in turn remember you and your business.
A Business Greeting Card For Every Business
Our greeting card services are the perfect answer for any business looking for an automatic way to keep in close personal contact with clients and customers.
Our business greeting card services are an indispensable tool for:
Financial Planners
Insurance Agents
Lawyers
Doctors
Banks
Real Estate and Mortgage Businesses
Accountants
Restaurants
Employers looking to send out birthday cards to their employees
Any business looking to create a more personal relationship with clients and customers.
Allowing Cards For Your Clients card sending business to send out your greeting card campaigns is an inexpensive, cost-effective, time-saving program for you.
You don't have to worry about:
ordering cards
buying cards at the store
writing personal messages
buying stamps
driving to the post office to mail your cards
It's all handled for you by Cards For Your Clients.
Your appreciation of clients, customers and employees will help you build your referral and repeat business.
With the increased use of computer communications like e-cards, e-mail and voice mail, adding the personal touch of real, paper greeting cards to your business marketing is more than a good idea.
It's the solution to help you stand out from your competition.
So, what do you think?
Would you like Cards For Your Clients to simplify your business marketing and help you show appreciation to your clients, customers and employees?
Just call me (Pat Lyon) at 814-836-8180 or fill in the Contact Form below for more information, to answer your questions or to provide you with a pricing proposal for your greeting card project.