Thanksgiving Thank You cards will make a great impression on your clients and customers.
If you're planning to show appreciation to clients and customers during the holiday season by sending them a personalized greeting card from your business, Thanksgiving is the perfect time to send it.
Every day you get closer to the December 25 holiday, the mailbox of your customers and clients gets fuller with holiday greetings.
That's why it just makes sense to send your client holiday appreciation cards in the form of Thanksgiving thank you cards.
You're not competing with other holiday cards and gifts. You have a captive audience!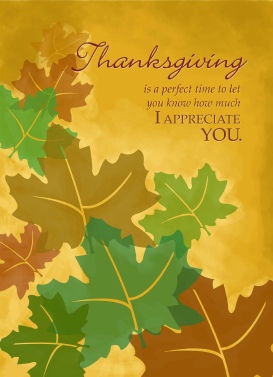 More and more businesses are discovering the advantages of sending corporate Thanksgiving cards.
Because not many businesses think to send cards of appreciation in November, your Thanksgiving thank you cards help your company stand out in the crowd by being first to send your thanks this holiday season.
Thanksgiving Thank You Cards The Easy Way
Cards For Your Clients takes away all of your work by printing, addressing and mailing your business Thanksgiving cards for you.
Here's how easy it is for your company to send business Thanksgiving cards this holiday season:
1. You select a card from our online Card Catalog of Thanksgiving cards.
2. You let us know how you want the inside greeting to appear in your card.
Example:
One of the Real Joys Of The Holiday Season
Is For Us To Extend To You
A Special Thanks For Your Business
Warm Wishes for a Happy Thanksgiving
and a Happy Holiday Season!
Ann Jones
Northstar Insurance
3. You tell us how the return address will appear on your envelopes.
4. You send us your list of Excel contacts (names and addresses) that will receive your Thanksgiving Day cards.
5. Your cards can also include, if you wish, your signature and company logo.
That's all there is to it! Nice and simple for you.
Cards For Your Clients takes care of everything else when it comes to sending your Thanksgiving thank you cards.
No more struggling with the hassle of buying Thanksgiving cards, addressing envelopes, putting stamps on cards or going to the post office.
We'll have your holiday cards printed, addressed and placed in envelopes, postage added, taken to the post office for mailing and delivered to your clients.
As a business owner, I think you'll agree how important it is to show appreciation and caring to the clients and customers that keep you in business all year long.
Time's running out!
Get A Holiday Card Price Quote Now
Contact Cards For Your Clients by filling out the form below.
We'd be happy to send you a proposal on your Thanksgiving thank you cards project or schedule your project for printing and mailing.
Are you planning on sending your company Christmas cards in December or perhaps a calendar greeting card close to the New Year?
Check out our business holiday cards service and we'll help in relieving your holiday greeting card stress by printing and mailing your cards for you in December.
Just fill out our contact form below and let Cards For Your Clients show you how we can make your holiday card sending easier than ever before.