Veterinary sympathy cards can help ease the pain of a client losing a cherished pet.
Cards For Your Clients can help you reach out to these special clients and show them compassion at this difficult time.
The Cards For Your Clients veterinary sympathy cards program makes it easy for you to send your condolences.
In fact, all you have to do is send us an e-mail with the names of your clients that need to receive your veterinary sympathy cards.
We handle all the rest of the details.
Your veterinary sympathy cards are printed, stamped and mailed to your clients.
What could be easier for you!
We pre-arrange with you what sympathy card you would like to send from our online card catalog.
Your sympathy cards also will carry the words of compassion you would like express inside your card.
As an added feature, if you wish, your staff signatures and business logo can also be added to your cards
The envelope features your return address and first-class postage.
We do all the work for you.
Your veterinary sympathy cards are processed and mailed out within 24 hours of receiving your sympathy card requests.
Veterinary Sympathy Cards And Much More
Want to impress your clients even more?
We can send other Veterinary Greeting Cards to your clients to keep your practice front and center in their minds.
We can send your valued clients Veterinary Welcome Cards on your behalf to thank them for becoming a new client.
Just send us your Contact List of new clients and we'll send them a veterinary welcome card from your practice.
Veterinary Birthday Cards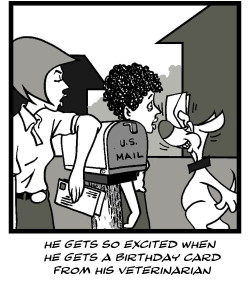 You can wow them and impress the family even more by sending a Veterinary Birthday Card to their cherished dog or cat on their birthday. The family will love it.
You'll draw rave reviews from your clients for your forward-thinking marketing which will lead to word of mouth marketing and referrals to help build your practice.
Whatever type of Veterinary Greeting Cards you are interested in sending, Veterinary Sympathy Cards, Veterinary Welcome Cards or Veterinary Birthday Cards, we can make everything simple and handle all the details for you.
For more information, a proposal for your project or to get your account started, fill out the contact information below or call Pat Lyon at 814-836-8180.